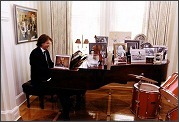 Over the years John's song "This Little Town" has been featured at many national events. One such event was the 50th Anniversary of NATO at the Vice President's Residence. John performed for the Heads of State at Al and Tipper Gore's house (Photo left. Click for enlargement). He also opened the "National Town Hall Meeting" with Collin Powell as it was televised globally and broadcast on the web. As John continues to tour the country, he involves local schools and communities in the celebration and spirit of "This Little Town."
Beginning in 2006 John will take the "This Little Town Tour" around the world recording these events and bring them to you in this area of the website.
---
40th Anniversary Celebration for Keystone in Canton, South Dakaota
Friday February 1, 2013
Crossroads Celebration in Antigua
Saturday November 17, 2012
FASD (Fetal Alcohol Spectrum Disorder)
Awareness Concert with John McAndrew - September 9 2011 Westminster Church, Grand Rapids, MI
"There were songs of forgiveness, songs of healing, and songs of stepping forward that fully embraced and lifted up the FASD community in West Michigan. On September 9th, 2011 the Westminster sanctuary was filled with the Spirit and there was a sense of peace that connected each and everyone's journey in the room. At one point in the concert, John invited the children and young adults who are affected by an FASD forward, to join him around the piano for several songs. He recognized that they are all God's children and they have a community that fully embraces them, and is there to nurture them no matter where they are at in life. We are grateful to the Wybrecht family for making the John McAndrew concert happen." From the church newsletter.
Little Creek Retreat - Alphonsus Retreat Center - Esopus, NY - April 9-11, 2010
Concert at Church of the Good Shepherd in Florence, AL - Handy Fest - July 21st, 2009
Concert at Holy Cross Lutheran Church in Maple Lake, MN. August 7th, 2009
Keystone Concerts in Sioux Falls, SD - February 5-8, 2009
Westbridge 2nd Annual Benefit for New Horizons in Manchester,NH - January 30, 2009
"It was a great success!"
"Bringing Music and Hope to the Prisons"
at South Central Correctional Facility,Clifton,TN - December 17, 2008
Buffalo Valley Alumni Picnic in Howenwall, TN - October 18, 2008
Concert for AZAADAC Conference in Tucson, AZ - September 26, 2008
Detroit Lakes - April 1 - 6, 2008
"John McAndrew is the type of artist that you wish lived in your community. He spent a week in Detroit Lakes sharing his positive life message and beautiful gift of music with students, senior citizens and people throughout our region. His dedication to his message and his music is genuine and touches the hearts and minds of all who hear him. The week culminated in a fantastic 2 1/2 hour concert that left people wanting even more! John McAndrew is an artist to bring back again and again to your community."
- Amy Stearns
"1st Annual Westbridge Benefit Concert" Manchester, NH - January 31, 2008





Sponsered by Westbridge Community Services in Manchester, NH.
Click Here for a poster of the performance


John "Live" at The Famed "Jazz Bakery" in Los Angleles, CA - September 11, 2007
Live At The Minnesota State Fair
John spent a fun hour with fairgoers and Don Shelby of WCCO TV/RADIO at the
Minnesota State Fair on Friday August 31st, 2007
Sherburn Elemantary, Sherburn,MN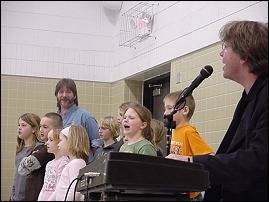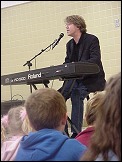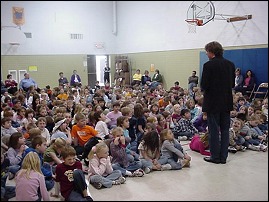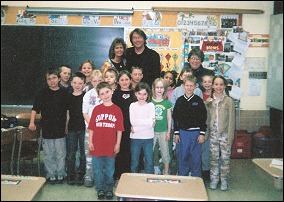 Second graders at Sherburn Elementary, Connie Stenson's class.

Sherburn Elemantary, Sherburn,MN. Dale Harbitz Principal.
"We played here while doing the Fairmont residency in March 2007.
It was a very rewarding day! Thanks to Dale and all the great teachers at Sherburn!"
Fairmont, MN
Fairmont, MN - Junior-Senior High Concert, April 11, 2006
Fairmont, MN - Southern Plains Area Learning Center


click photo for enlargement
Country Music Hall Of Fame Benefit for Community High School in Nashville, TN
With Vince Gill, Amy Grant, Kathy Mattea and Jon Vesner
"This Little Town Tour", 7 cities, Austin, MN to Custer, SD - July 4 thru 6, 2006